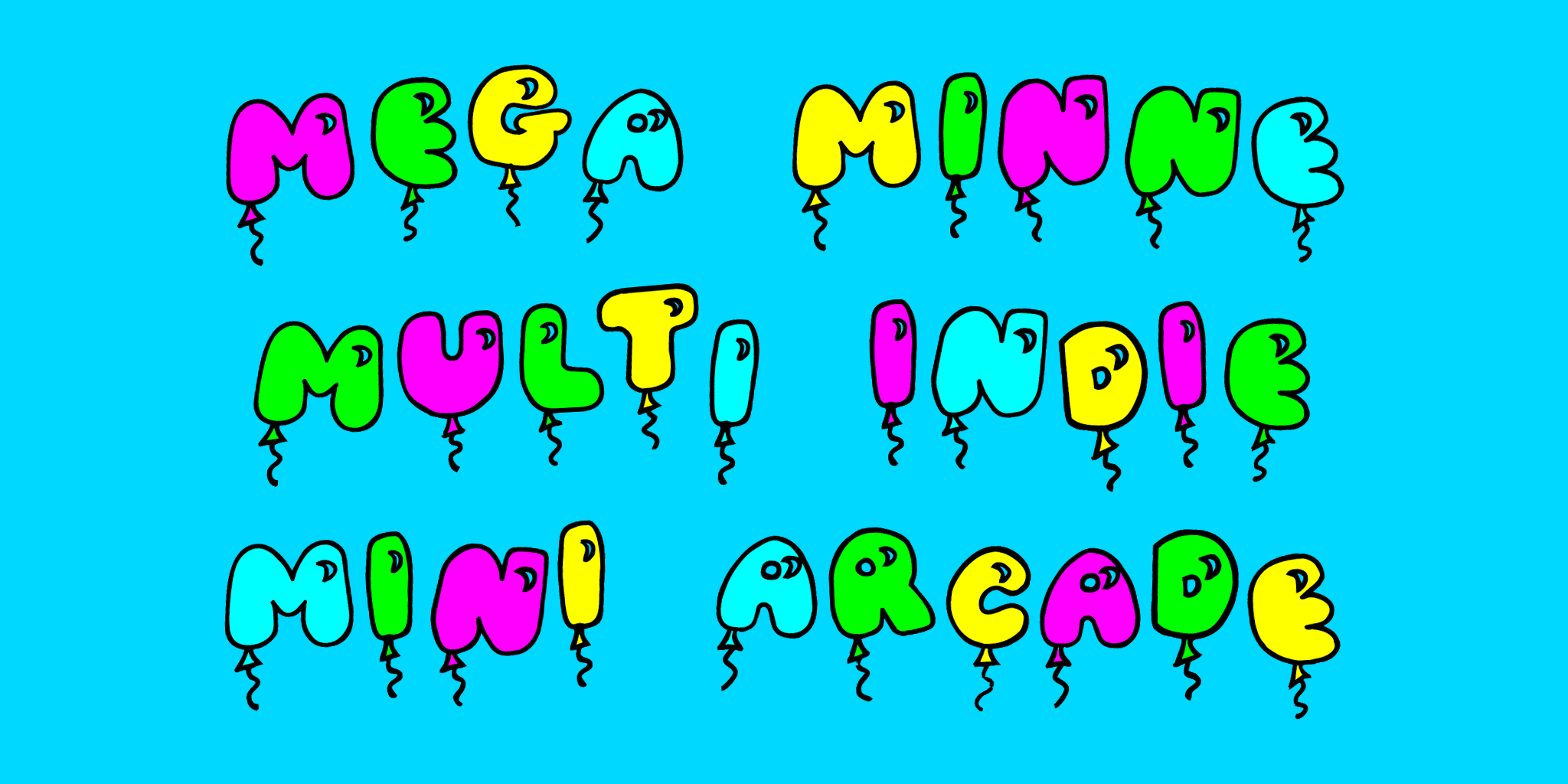 We're doing it again this year!
Hello Computer Friends, what if I told you there was a vibrant community of independent game developers in your very own state of Minnesota (and surrounding principalities) making seriously excellent video games?
You would demand PROOF, as is your right.
Mega Minne Multi Indie Mini Arcade is here to provide you so much proof that you are like "Okay, okay, I get it. Enough already."
We got:
💪 4 big screen TVs running a selection of locally made games
💪 1 multiplayer VR game (starts at 10AM)
💪 This thing's going all day long
💪 In the main hallway area of Minnebar
Here are some of the games we'll be featuring:
anti|priacy
Tribe Games (@TribeGames) | Charles McGregor
website
anti|piracy is an intense action dodge 'em up with a minimalist design. Evade countless amounts of enemies as you try and outlast your friends for the highscore. Change up the how the game plays with various modifiers ranging from the speed and size of your player to manipulating the arena itself.
Chimera Genesis
North Games
website
Chimera Genesis is a four player cooperative adventure game. You plays Chimera--animals who journey through the world finding--or stealing limbs from other Chimera, which you can attach to your own body to change your abilities. Play with friends and family of all skill levels to help your characters resolve their pasts.
Claw Breaker
Team Claw
Claw Breaker is a crustacean fighting game! Cut your opponents claws off to win! Or if you are a peaceful crab you can win by collecting three stars. How many crab battles can you win in a row against your crustacean pals?
Earthbeat (VR Game)
Team Earthbeat?
website
Demoing VR at a party? Now you can play locally with up to 5 people at the same time. Mother Earth has had enough of stupid humans messing with her climate and has decided to take matters into her own hands. She has sent a Polyp, a massive, gooey creature, to protect what is left of her domain. She will do battle against up to four human spacecraft, in a fight that's sure to get your heart racing. One person will play the Polyp using a Vive, against four aircraft piloted by players with game controllers who are determined to land in the landing zone at any cost. The Polyp will defend itself by flicking its arms and slapping the aircraft out of the sky. Prepare for a ton of laughs and also a sweaty HMD.
Fingeance
Escape Industries
website
Fingeance is a four-player shoot-em-up that places emphasis on teamwork and strategy, discarding traditional twitch-based gameplay.
Glowbots
Alex Carlson
website
Couch Multiplayer Arena Fighter Robot Deathmatch
Joggernauts
Space Mace
website
Joggernauts is a cooperative auto-runner party game for 2-4 players where you try not to kill your friends. Take turns (probably failing) to lead your team through deceptively difficult color-coded platforming levels.
The Legend of Equip Pants
Zachstronaut
website
The Legend of Equip > Pants is an episodic, puntastic pantsventure comedy RPG where instead of equipping and upgrading a sword, you have to equip and upgrade your pants.
Newt One
DevNAri LLC
website
A fun, colorful, & musical 3D Platformer, Newt One is coming to XBox One, PC, and Mac this year (2017)! You play as Newt, a new tone in a musical land that has fallen to the Gray Slumber. Awakening this sleeping, silent world is Newt's rite of passage.
Trigger Discipline
Victor Thompson - @i2
website
Trigger Discipline is an arcade action game rendered in ASCII text. The player character can move or fire their weapon in the four cardinal directions. Each level ends when all non-player characters have been killed. Trigger Discipline runs in a terminal, and can be played remotely via telnet or ssh.
Verdant Skies
Howling Moon Software
website
Verdant Skies is a life simulation game filled with friendship, exploration, farming, and crafting. Lose yourself in the lovingly hand-painted world and ensure the success of the colony as you make friends and pursue romance with a diverse cast of characters.
--
Also, would you like to get plugged into the local game dev scene?
Ice Cold Games
website
A one stop shop for upcoming game dev related events, game creators, organizations, and more.
Glitch Con
website
Digital Games Festival happening May 5-7th, you should go!
IGDATC
website
The local chapter of the International Game Developers Association has monthly general meeting plus a VR meeting.
Nice Games Club Podcast
website
The podcast where nice gamedevs talk gaming. Nice! And, local!
Beginner